Temporary Members
We welcome you to our association even though it may be for a brief time. This Association takes pride in our lake and its surrounding property. In 1961, a group of Eagles Mere property owners incorporated the Eagles Mere association as a Pennsylvania non-profit corporation. The Association acquired Eagles Mere Lake, including the Outlet Pond and land around the lake and pond. Our lake is private and is not open to the general public. The lake and its facilities are exclusively for the use of Association members and their guests.
In order to use the Lake, the Beach and the surrounding property, all renters, guests of Inns, Lodges, B&Bs, and anyone who is a guest in a member's cottage when the member is not in residence, must become Temporary Members of the Association.
​
Applications for Temporary Membership are available through the EMA Office and at the Beach Desk in season. The Application must be approved and all fees paid before use of any EMA facilities.
​
Key Association and Property Rules:
Swimming is permitted only in the designated area at the Beach.
Children under age nine must be accompanied by someone aged fourteen or older while at the Beach
For your pleasure, you may ride the Hardly Able, which stops at The Crestmont, Beach, and Edgemere Docks.
Only full members may bring a boat to the lake, so a variety of boats are available for you to rent at the Beach Desk.
​
​Temporary Member Fees:Sleeping Capacity By June 1st By 3rd day of Stay After 3rd day of Stay
1 to 10 $155.00 per wk. $165.00 per wk. $180.00 per wk.
11 to 20 $225.00 per wk. $235.00 per wk. $250.00 per wk.
21 to 30 $325.00 per wk. $335.00 per wk. $350.00 per wk.
31 to 40 $425.00 per wk. $435.00 per wk. $450.00 per wk.
If you have any questions about becoming a Temporary Member, we'd like to help, please contact us directly by calling 570-525-3515 or by email
office@emalake.org
.
---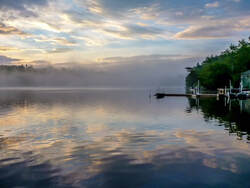 ​
If you would like to learn more about the community of Eagles Mere, please visit the web sites below:
​
The Association hopes you will enjoy Eagles Mere, get to know other members, and return often.